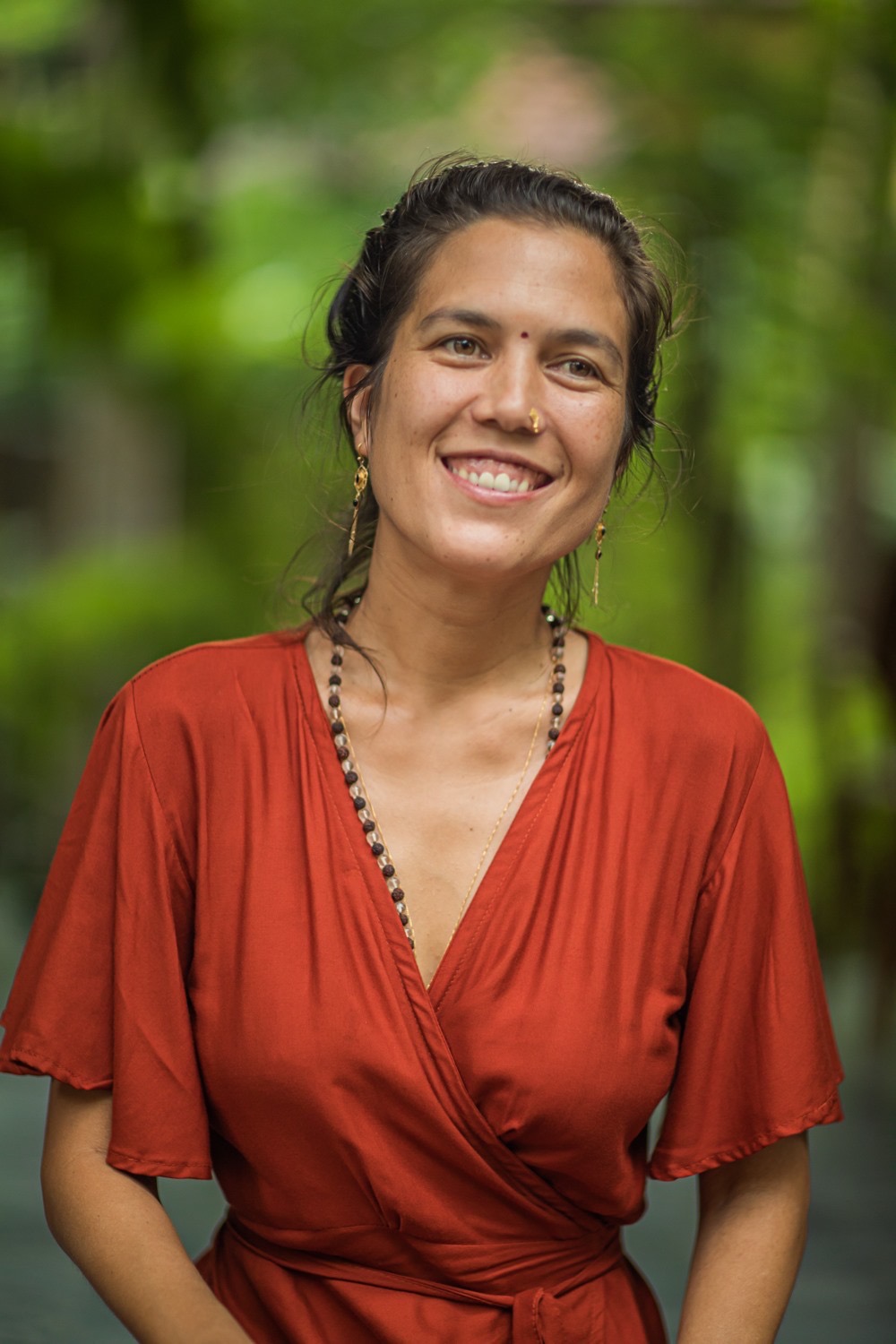 Sharada is a devoted and committed student and teacher of Vedanta (non dual teachings) and the Vedic Tradition, Master of Ceremonies & Vedic Chanting as well as the Founder of Be Woman Project. At this present moment, she is undergoing one of the most in depths sex, love & relationship coaching programs. 
From an early age, Sharada was on the quest for Moksha, absolute freedom, which led her to India & Bali, seeking guidance & answers to the fundamental questions of life. 
More than a decade ago, she found her revered teachers in the lineage of Swami Dayananda Saraswati and has since then been living in Bali & India studying the ancient teachings of the Vedas directly with her teachers. In her lineage, the study of the inner child, Jungian Psychology & devotional practices such as rituals is incorporated which also shines through in all her magical offerings. 
Her background in Odissi Dance, a temple dance, Ayurveda, Tantra, the deep dive into ancient rituals, and the secrets of Devi 'the goddess' played a profound role in her own discovery of the sacred feminine; which was also the inspiration to start holding circles for women. 
In the recent years, she has immersed herself deeply into natural fertility awareness, body literacy, sacred womb wisdom, womb yoga, holistic sex education as well as trauma release through 
breathwork & women's psychology. 
She is the creatrix of Be Woman Project that today offers international women's circle facilitator courses that are based in the Vedic Tradition, incorporating a holistic and tantric approach to reclaiming one's own self-worth, a sense of belonging & returning to healthy integrated wellness that deeply honors all beings as sacred. 
Discover the Sanctuary of your own Being
Pearls of Wisdom is a mix of pre-recorded and live classes that you can follow from the cosiness of your own home.
It is born from the deep love towards the sacred teachings of Vedanta, Mantra, Puja, Meditation, Sanskrit and Yoga Asana.
Unfolded to you by Vaidika Dharma Rituals & Teachings with the support and help of Sylwia Miszczuk. 
A warm welcome to join class.
Join Our One-on-One Sessions
Example Featured Products
Showcase other available courses and coaching products you're selling with the Featured Products block to provide alternatives to visitors who may not be interested in this specific course.
Check your inbox to confirm your subscription